I've been going through a little Goodwill withdrawal. I hadn't been to a Goodwill in over a week! I know, shocker, but I was able to get my GW fix in a couple times this week. Here's what I found…
I scored this shadow box with four little pears inside. I think it was either $3.99 or $4.99, I ripped the sticker off and now I can't remember. Oops! Not sure if I'm going to paint the frame or leave it as is. I guess I will decide when I get my kitchen remodeled and find a place to put it.
Found this little guy last month for $1.99. He was on a black stem which was fine but I decided to add twine around it to add a little more character. I don't know, what do you think?
I found this cloth shower curtain for $6.99 and just fell in love with the pattern. It's a Target item that sells for $24.99 retail. Woot woot!
The next three items are things I picked up my sister. They just bought a new house and she's letting me find stuff for it. What's better than shopping at Goodwill? Getting to spending somebody else's money at Goodwill!
I'm trying not to get to attached, but they sure do look good in my house. ;)
This twill feather euro was also $6.99
This vintage looking plaque with towel bar was $4.99
And finally I found this sunburst mirror for $6.99. It's going to get a fresh coat of black paint…I think it'll look pretty snazzy. :)
So what have you found at your Goodwill this week?
Linking up with: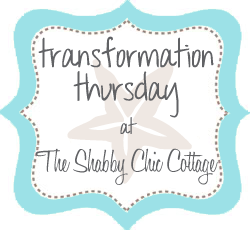 our interview with