We are currently in the process of remodeling our
master bathroom
. We have a garden tub with a big empty wall behind it. I've searched everywhere for inspiration for that big empty wall but have come up with very little. Most master bath tubs have a nice window behind it where mine does not.
So I decided I was going to have to get a little more creative. Then I thought "I don't have a window but by golly I can have shutters!". So I was on a mission to find me some cheap shutters. I thought this would be fairly simple since it seemed like I was always running across sets of them at Goodwill. But of course since I was now looking for them they were no where to be found. That is until I checked out our local Habitat for Humanity ReStore. (Really cool place by the way!) Finally I found these for $6.
I almost didn't get them because $6 was a bit pricey for me (did I mention that I'm super cheap?) but fortunately my hubby convinced me to get them anyway. I'm glad he did to because I haven't seen another set since.
At first I thought I would just sand down the edges to give them a distressed look but I realized it wasn't going to be that simple because the white paint had started to yellow and it wasn't pretty.
Then I decided that since I was going to have to paint them anyway I would add a little color to them. So I spray painted them a soft blue.
Then I took a sponge brush and mixed 1 part water to 1 part latex paint and white washed over the blue paint.
After I was done it looked a little something like this.
Then I took out my handy new power sander **insert Tim the Tool Man Taylor grunt here** and lightly sanded the surface and edges.
Actually I take that back. The edges where I wanted the wood to show through took a lot more than a light sanding. Since the previous owner had already painted the shutters with 100 coats of white paint it took several sheets of sand paper to get through to the wood. My hand was numb by the time I was done.
I had seriously considered tying these things to the back of my car and driving them around the block a few times to save myself some sand paper but I reconsidered at the thought of gas prices verses the price of my sand paper.
So after I got them all sanded and "weathered" I hit them with some glaze to make them look really aged. (My mother is probably shaking her head trying to figure out why I've gone to so much work to make these look like this.)
Here is how they turned out:
I tacked on the starfish with poster tack so if I decide to change it my starfish won't be covered in glue. I use this stuff everywhere!
This is what our bathroom looks like now after we painted and put up some moulding. Still not finished but it's getting there!
Unfortunately my bathroom has absolutely no natural light so it was hard to get a good picture of them on the wall.
Here's another shot that shows the colors a little better
**sigh** Starfish make me happy. :)
Hey! While you're here please follow me! I love meeting new bloggy friends and if you would like me to, leave me a comment I will follow you back!
Have a great week!
Linking up to: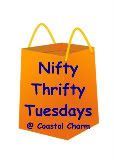 Making the World Cuter
Dittle Dattle
CraftOManiac
Savvy's Southern Style